For the fourth consecutive year, the town of Brunswick has been recognized by the NAMM Foundation as one of the 686 school districts nationwide (one of only two Maine school districts) considered "Best Communities for Music Education". The award recognizes outstanding efforts by teachers, administrators, parents, students and community leaders who have made music education part of a well-rounded education. Designations are made to school districts that demonstrate an exceptionally high commitment and access to music education.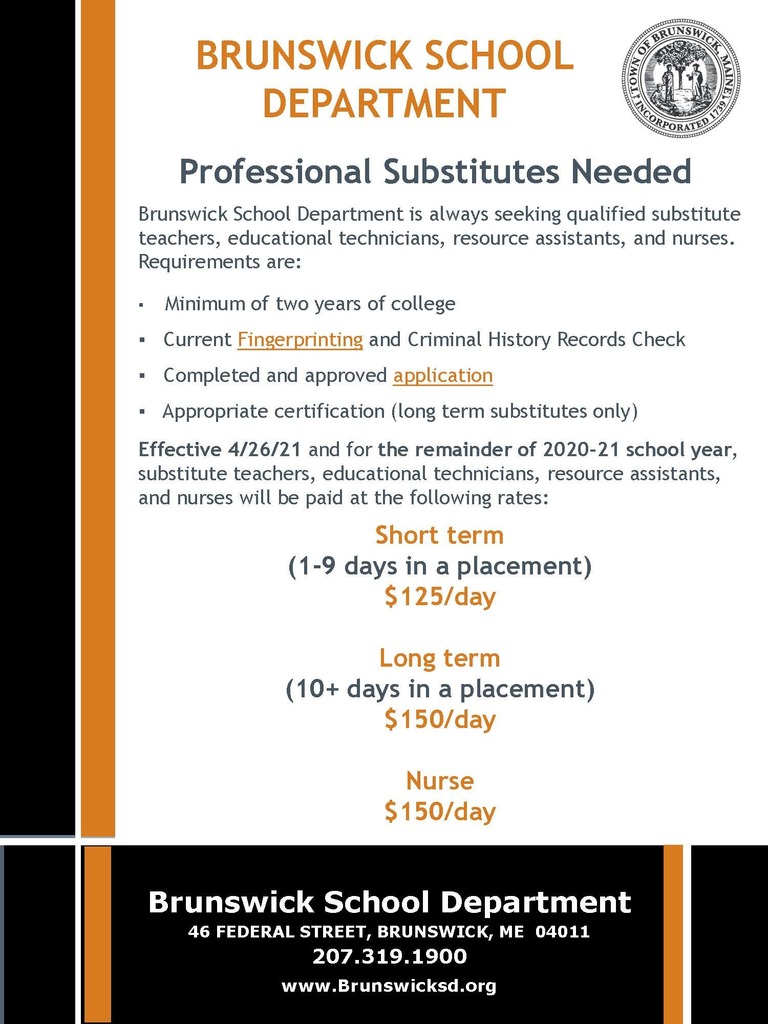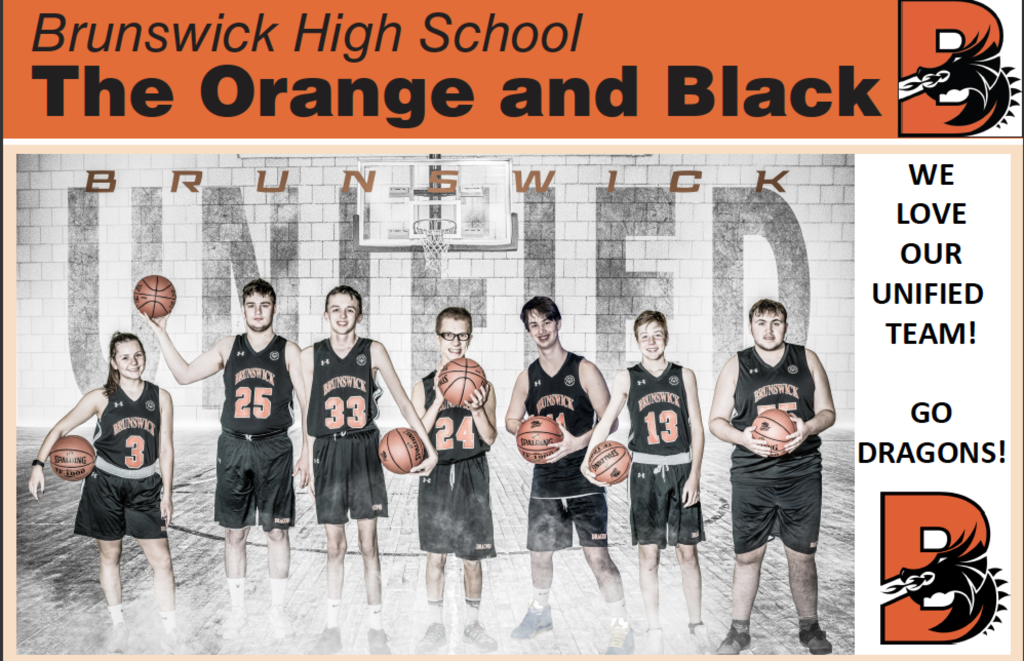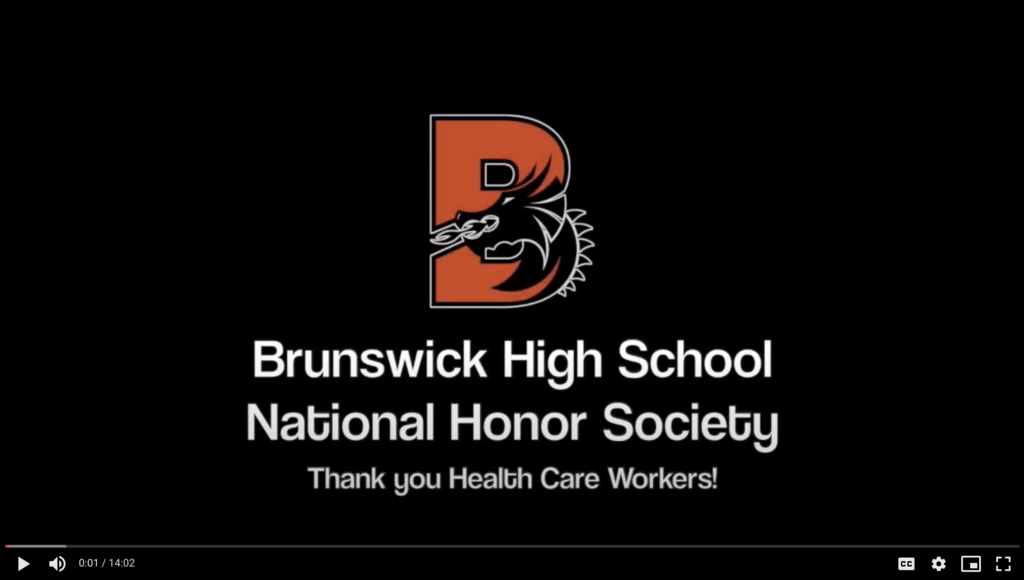 Happy Valentine's Day! Spread the Love! #teambrunswickme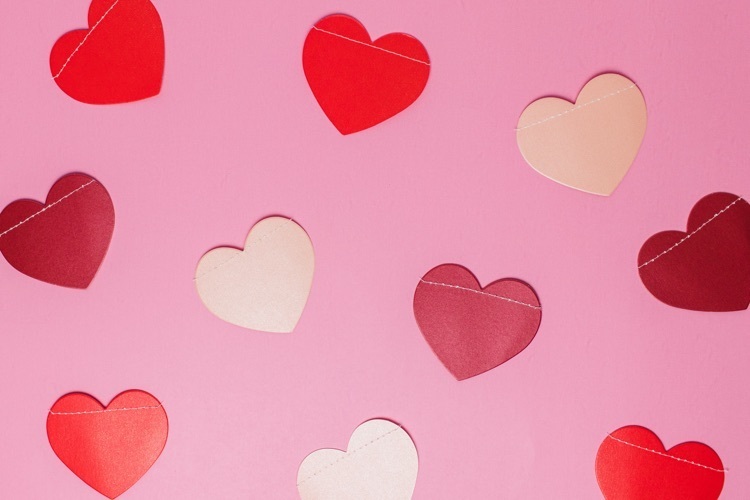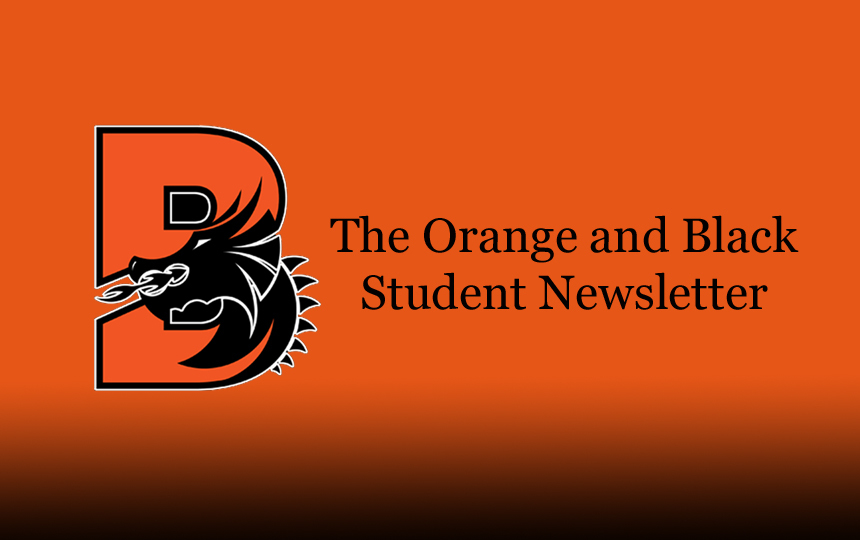 BHS Parents/Guardians 2/5/21 - check your email for a quick survey on the impending schedule change.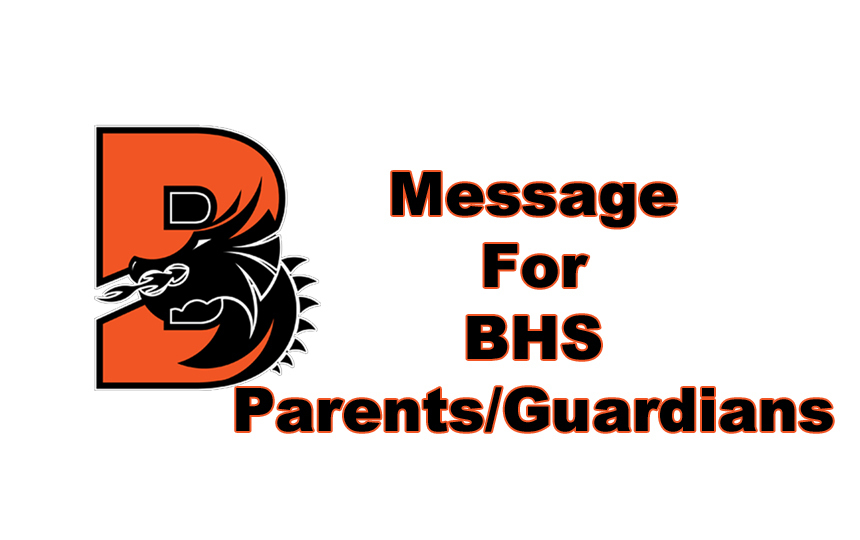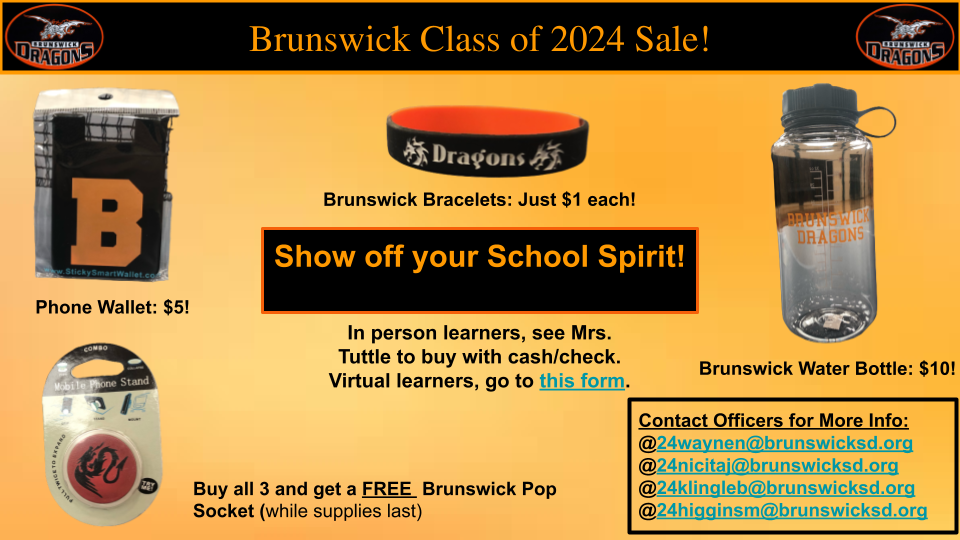 BHS Parents/Guardians: Be on the lookout for a survey sent to your email regarding BHS Programming.

Brandon Dudley - BHS English Department - Maine Chapbook Series Winner The Maine Writers and Publishers Alliance is pleased to announce that National Book Award winner Sigrid Nunez has chosen Brandon Dudley's Hazards of Nature: Stories as the winner of the 2020 Maine Chapbook Series. Dudley will receive a $500 award, and his manuscript will be published in 2021. Nunez also named Cassandra Power's Leave Yourself Alone as the runner up. Nearly sixty manuscripts were submitted for the chapbook series contest this year, and two award-winning Maine fiction writers named eight manuscripts as finalists, including work by Elizabeth Iverson, Russell Dame, Rachele Ryan, Erica Dubois, Brett Willis, and Jennifer Dupree, in addition to Dudley and Powers. Brandon Dudley is a graduate of the MFA program at Sierra Nevada University, where he was managing editor of the Sierra Nevada Review. His short fiction has won a Maine Literary Award and been nominated for the Pushcart Prize. His stories, essays, interviews and criticism have appeared or are forthcoming in New South, The Millions, The Forge, Fiction Writers Review, and others. A former journalist, he now teaches high school English in Brunswick, Maine, where he lives with his wife and two sons. The Maine Chapbook Series began in 1983 as an initiative of the Maine Arts Commission. Then-assistant director and current Maine State Poet Laureate Stuart Kestenbaum led the project, and it became a collaboration between MAC and MWPA that ran for over a decade, publishing one chapbook each year by an emerging poet or writer. Past judges included Philip Booth, Amy Clampitt, Donald Hall, David Huddle, Mary Oliver, and Charles Simic. For an example of the series' impact, one need look no further than the 1991 competition: that year, poet Betsy Sholl won with her collection Pick a Card and the late poet Donald Hall served as the judge. Sholl went on to serve as Maine State Poet Laureate, and Hall served as the Poet Laureate of the United States in 2006. The Maine Writers & Publishers Alliance brought back the Maine Chapbook Series in 2019. Each three-year cycle, the contest rotates between poetry (2019), fiction (2020), and nonfiction (2021), and MWPA will publish and promote that year's winning manuscript. Each year, MWPA will involve a distinguished author from outside Maine who will select the winning manuscript and write a brief introduction. Each year, the emerging writer selected to have their chapbook published will receive $500 and 25 copies of the book. An image by a Maine artist will be selected for the cover, and the artist will receive a $500 prize.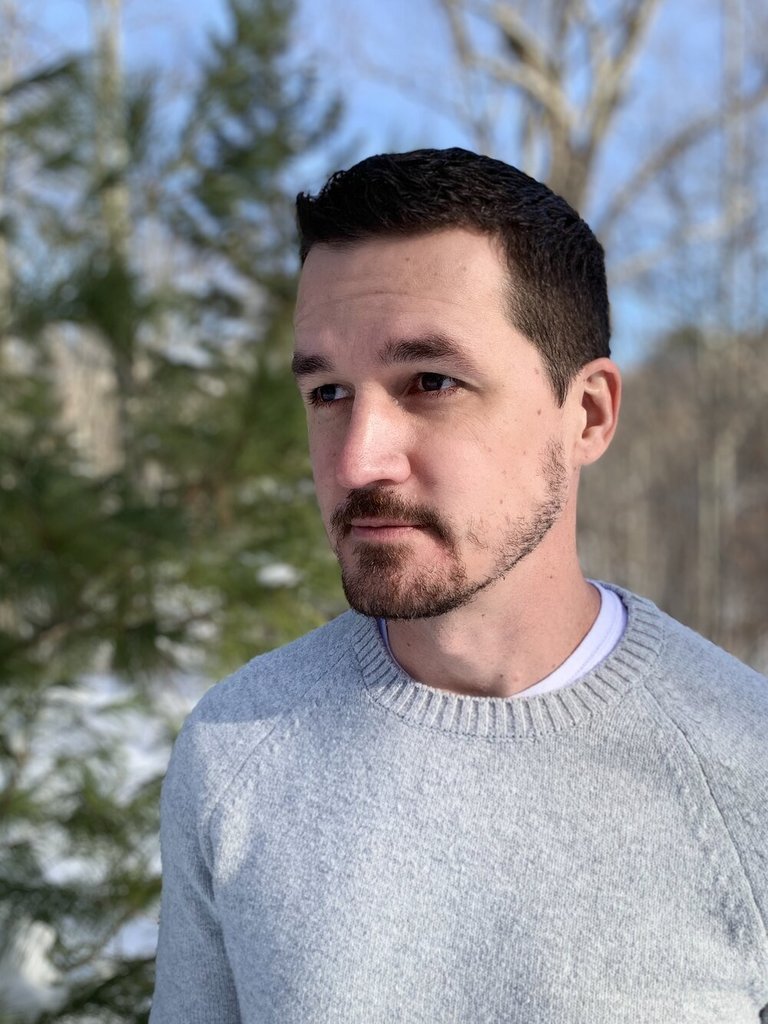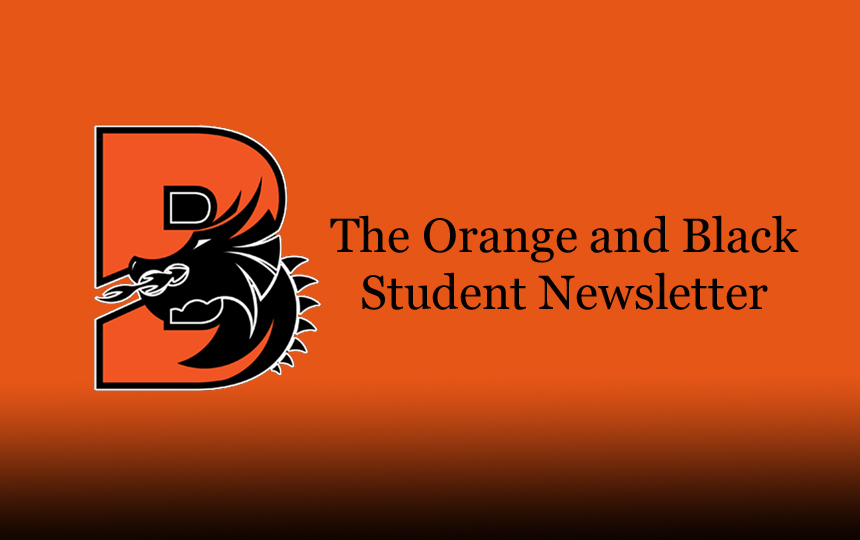 Order Your High-Quality Collegiate Brunswick Sweatshirt ! Order Before Holiday Break Complete Order Form and send $25 to Ms. Groves. Checks to "BHS Class of 2023" Pick up after break at BHS from Noon-12:30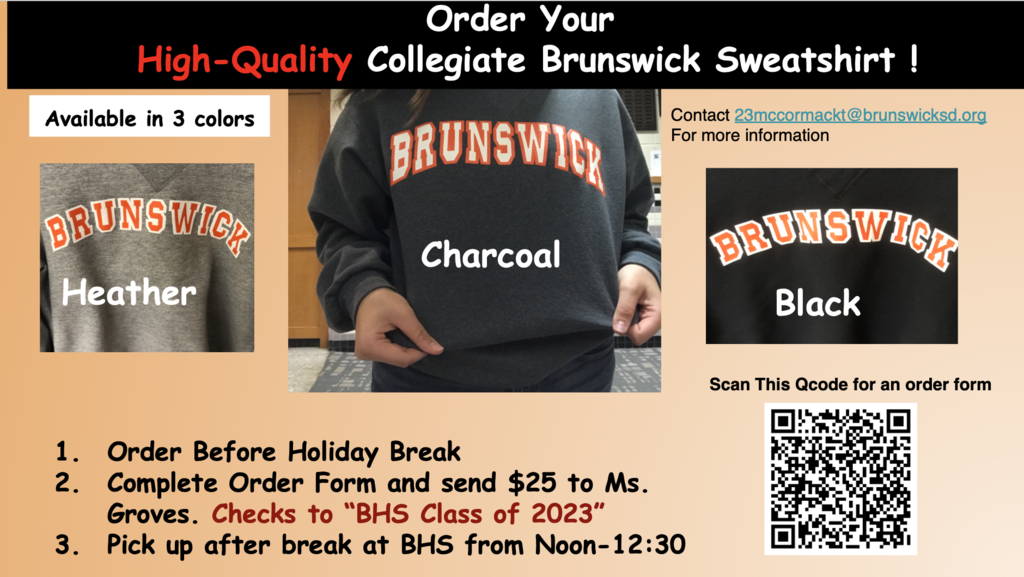 Order Your Brunswick Sweatpants Stay warm this winter Sizes small & medium (in stock) Fill out an order form Pick up times Noon-12:30 at BHS Make checks payable to "BHS Class 2023"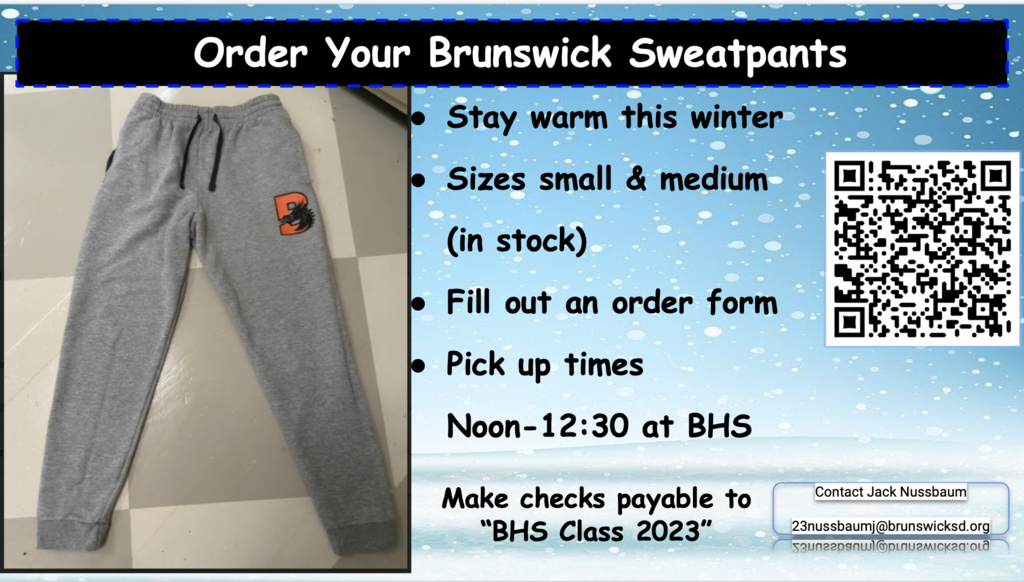 BHS Winter Athletics Information Following MPA and CDC guidelines, we will be offering winter sports at BHS starting on 12/7. All winter sports will look tremendously different from what we are used to. We ask everyone for their flexibility and patience as we provide the best winter athletic experience we can for our student athletes. Practice and game/meet schedules will be coming out soon. Coaches will be reaching out very soon to set up virtual meetings to give you more sport specific information. Every day before practice/games/meets, coaches and students will fill out a Covid 19 prescreening questionnaire or they will not be able to participate. The questionnaire can be found here:
https://docs.google.com/forms/d/e/1FAIpQLScn0s-U_XsXepdwC9WNGZat8cHmYKGYzm3FyoxrCveatIP_BA/viewform?gxids=7628
We will follow all CDC guidelines at all practices/games/meets for example: All coaches and athletes will wear a mask at all times except for swimmers while in the pool. All coaches and athletes will maintain 6 feet apart at all times when not involved in game play or situations. We will have hand sanitizer at all practices/games/meets and we will sanitize all equipment after all practices/games/meets. Students must have their own water bottles and bring enough water for practice or competitions. You can find all of the Community Sports guidelines here:
https://www.maine.gov/decd/checklists/community-sports
Thank you for your continued support of BHS Athletics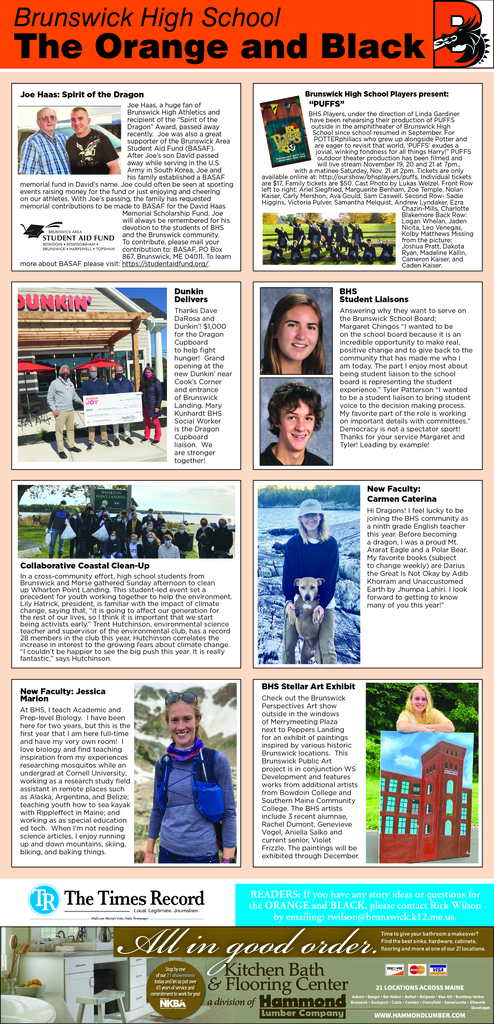 Brunswick High School Virtual Open House Tonight: October 22, 2020 6 - 8 pm Parents/Guardians: check your email for more information!

Because of the incoming rain this afternoon and tomorrow all practices and games have been cancelled. Today's football game has been postponed until next Friday 10/23 JV 3:30/Varsity 5:30 Today's field hockey games with Edward Little (played at Sherwood Heights Elementary School) have been postponed to Monday, 10/19 same times Varsity 3:30, bus leaves at 2 JV 5:00, bus leaves at 3:30 The cross country race at Maranacook for tomorrow has been postponed until Wednesday 11/4 at 1:30 boys/3:00 girls.

Today's field hockey games with Edward Little (played at Sherwood Heights Elementary School) have been postponed to Monday, 10/19 same times Varsity 3:30, bus leaves at 2 JV 5:00, bus leaves at 3:30

School Picture Day for students in grades 10-12 will be as follows: Monday, November 2 - Cohort 1 during school day (distance learning students with last names A-F beginning at 12:15) Wednesday, November 4 - Cohort 2 during school day (distance learning students with last names G-N beginning at 12:15 ) Friday, November 6 - Cohort 3 during school day (distance learning students with last names O-Z beginning at 12:15 ) Distance Learning students who wish to have their pictures taken are asked to arrive on the appropriate day, between 12:15 and 2 pm and to park in the back parking lot and enter through the back door and proceed, masked and socially distancing, to the gym for photos. Students will be required to give their name and allowed to remove their mask for photos.